If you want to build lean muscle mass and strength quickly and efficiently, then this stack is what you need.
Best of all, you can do it without harmful steroids, superior genetics, long gym hours, or wasting money on useless supplements.
Remember, that getting into the best shape of your life isn't hard because:
a) It's not necessary to mix up your training routine to muddle your muscles
b) It's not necessary to spend hours in the gym tiring yourself out with hated reps, sets, and supersets
c) It's not necessary to do long, boring hours of cardio to slim your bulging waistline and get six pack abs
d) It's not necessary to eat clean to get shredded and have a low percentage of body fat
This stack gives you the proper diet and supplements to add 10-15 pounds of excellent lean muscle mass and lower your body fat percentage in just 10-12 weeks.
In just 3 months, you'll receive compliments on how good you look and get asked for the secrets to your fitness success.
You'll benefit from having more energy, no soreness, and a better mood since you'll be getting healthier every day.
Buy this lean muscle and strength stack to help you get larger, slimmer, and stronger!
YOU GET…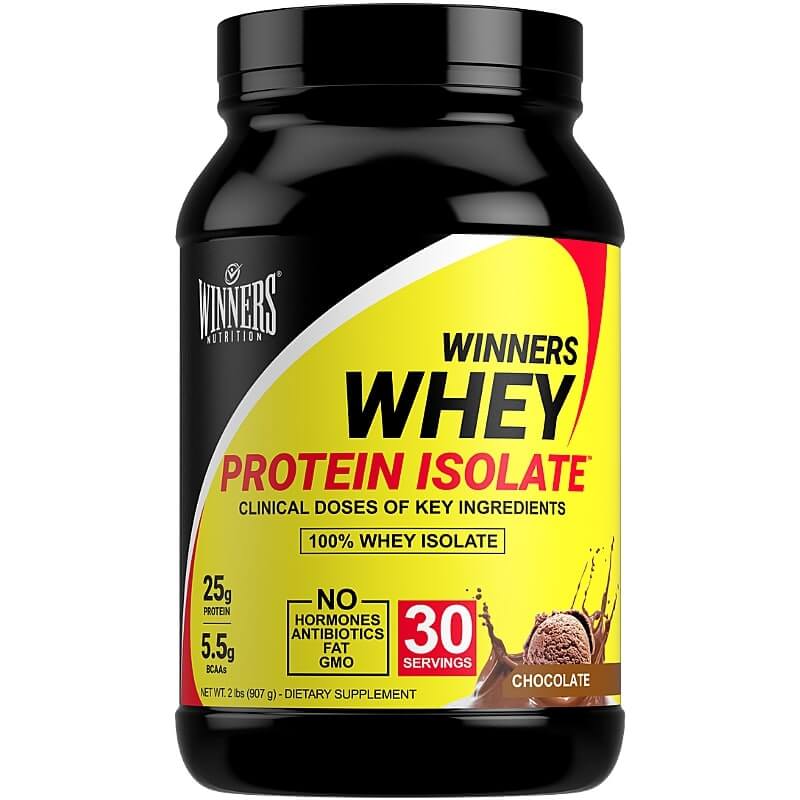 WINNERS WHEY PROTEIN ISOLATE (2lbs, 30 Servings)
People love whey protein because a) it gives a lot of protein per serving, b) it's delicious, and c) it has amino acids that increase muscle definition.
If you want a very high-quality protein, Winners Whey Protein Isolate is for you because:
a) It's 100% whey protein isolate, which is the highest quality protein
b) It's made with milk from Irish cows, which give superior milk since they have no hormones or antibiotics
c) It has NO artificial food dyes, fillers, or needless junk ingredients
d) It has NO soy protein, gluten, GMOs, MSG, or hormones
e) It's naturally flavored and tastes delicious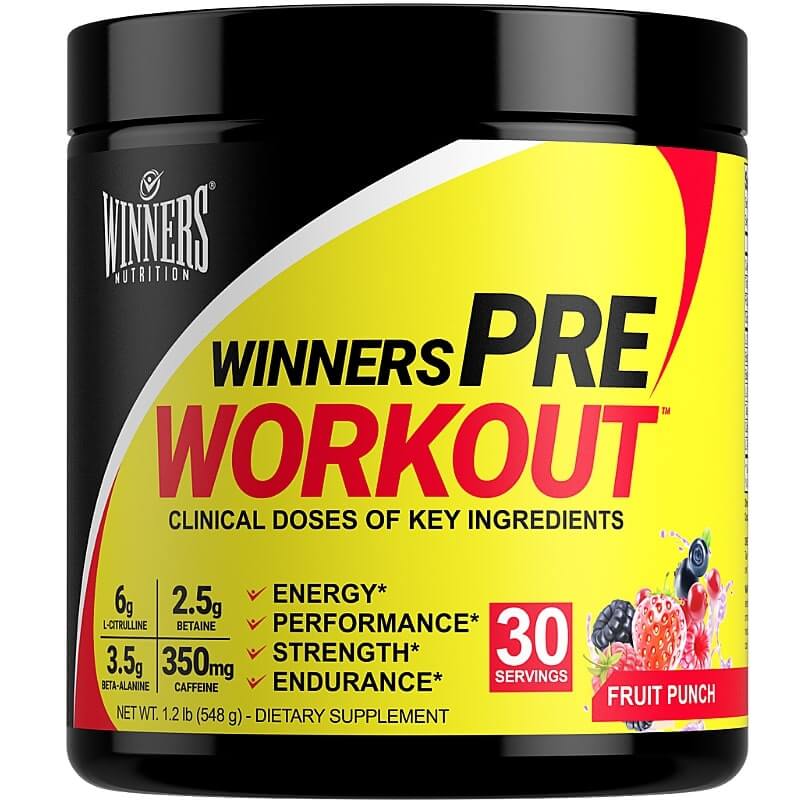 WINNERS PRE-WORKOUT (1.2lbs, 30 Servings)
For a smooth energy rush and improved performance in the gym and on the field, you'll need Winners PreWorkout.
A pre-workout supplement that has clinical doses of scientifically proven ingredients to boost your energy, focus, and performance as well as elevate your mood.
Based on research, you'll be able to train longer and with determination.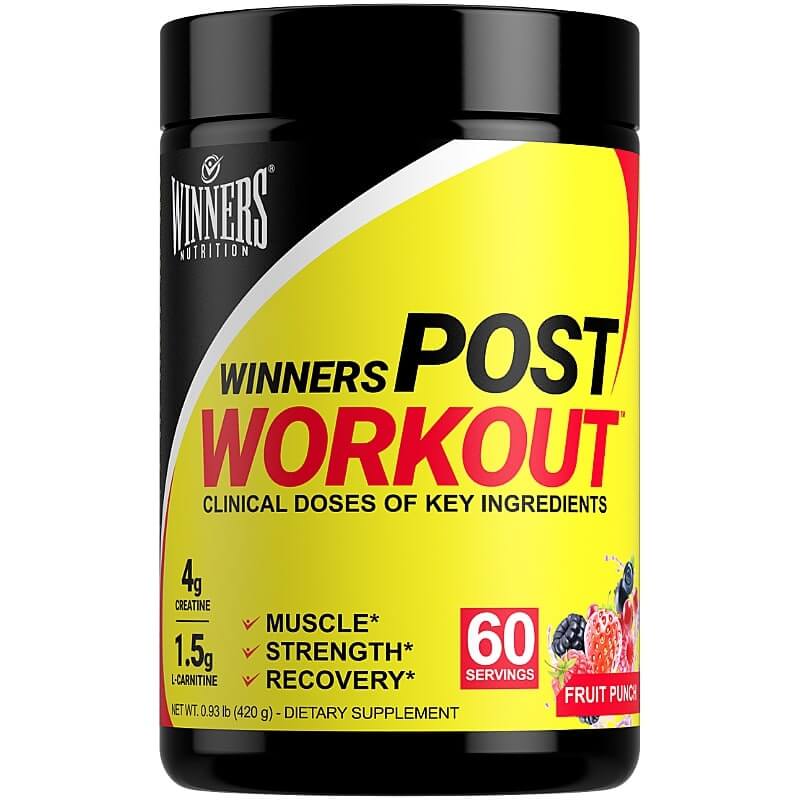 WINNERS POST-WORKOUT (0.93lbs, 60 Servings)
After training your muscles, you can then focus on their recovery and growth by taking Winners PostWorkout.
Its scientifically proven ingredients in clinical doses will help you build muscle and strength quicker, recover sooner, and lessen muscle aches.
You'll be able to workout more often, which means gaining even more muscle and strength.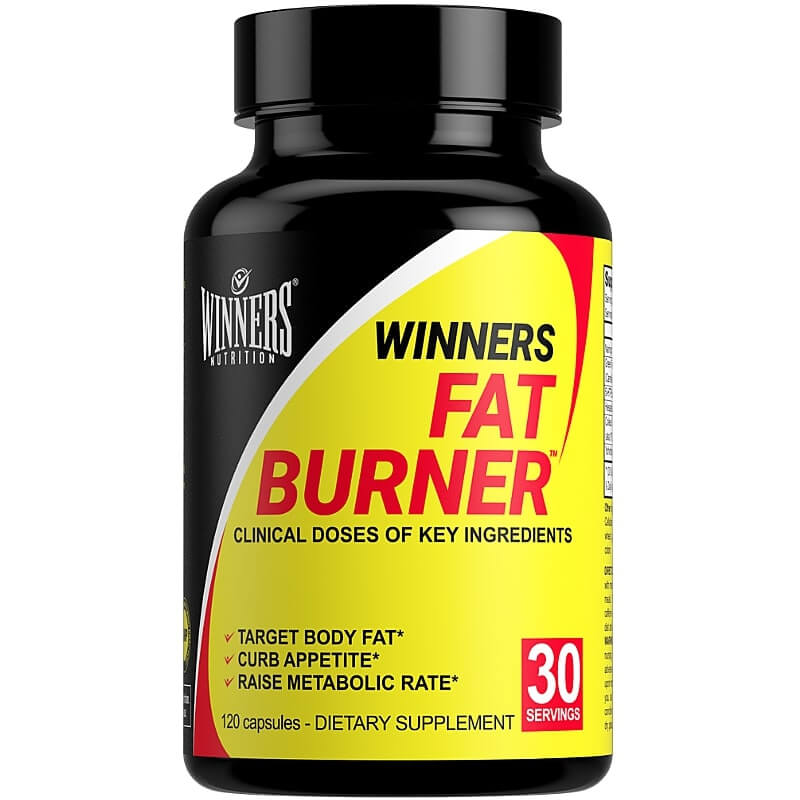 WINNERS FAT BURNER (120 Capsules, 30 Servings)
Winners Fat Burner works in three (3) different ways by:
a) Significantly boosting your metabolism
b) Strengthening your body's fat burning chemicals
c) Lowering your appetite
Taking it every day while on a proper diet (this means keeping a calorie deficit) will ensure that you lose an additional ½ – 1 pound of fat every week.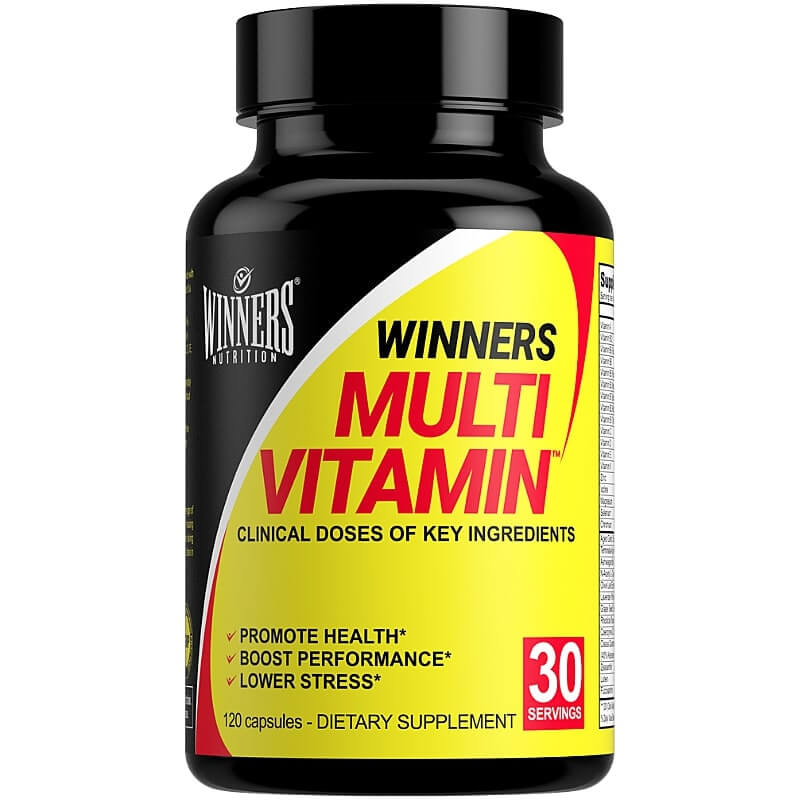 WINNERS MULTIVITAMIN (120 Capsules, 30 Servings)
In addition to filling the daily nutrient voids in your diet, Winners MultiVitamin will better your health and well-being, improve your performance physically and mentally, and guard against sickness.
Each ingredient in its 21 ingredient formula is clinically dosed and scientifically proven to make you healthier and more immune to stress and illness.
You'll have the energy to train with determination because you'll feel great everyday.
HOW TO TAKE THIS STACK
Here are three (3) recommended ways to take the supplements in this stack:
Method A
Morning (before your first fasted workout):
½ or 1 serving of Winners Fat Burner
½ or 1 serving of Winners PreWorkout
With Post-Workout Meal:
1-2 scoops of Winners Whey Protein Isolate
1 serving of Winners PostWorkout
½ serving of Winners MultiVitamin
With Lunch:
½ or 1 serving of Winners Fat Burner
With Dinner:
½ serving of Winners MultiVitamin
Method B
Pre-Workout (non-fasted workout):
1 scoop of Winners Whey Protein Isolate
1 serving of Winners PreWorkout
½ or 1 serving of Winners Fat Burner
With Post-Workout Meal:
1-2 scoops of Winners Whey Protein Isolate
1 serving of Winners PostWorkout
½ serving of Winners MultiVitamin
With Lunch:
½ serving of Winners Fat Burner
With Dinner:
½ serving of Winners MultiVitamin
Method C
Morning (before your first fasted workout):
½ or 1 serving of Winners Fat Burner
½ or 1 serving of Winners PreWorkout
With Post-Workout Meal:
1-2 scoops of Winners Whey Protein Isolate
1 serving of Winners PostWorkout
½ serving of Winners MultiVitamin
Afternoon (before your second fasted workout):
½ or 1 serving of Winners Fat Burner
½ serving of Winners Pre-Workout
With Dinner:
½ serving of Winners MultiVitamin